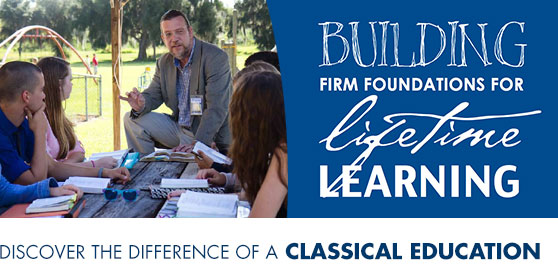 Education is always about formation. It shapes the mind and affections of students, teaching them what is worth thinking and loving. Not all educational models aspire to these same ends of faith and character development in addition to academic excellence. The model at Geneva Classical Academy is built on the bedrock of historic Christianity.
Our teachers seek to embody the truths they present not only through teaching which engages all the senses, but also through lives that demonstrate their own commitment to and love for their students, each other, and the God they seek to serve. Subjects are integrated historically, thematically, and developmentally, while always flowing from or leading to the truths of Scripture. 
The curriculum from K4–12 is vibrant and life-affirming, fostering dialogue between and among the students, teachers, and administrators. The aim of this curriculum is to cultivate a love of learning. GCA not only aims to equip students for college, but also to instill in them a life-long love of learning and delight in God's truth that will enable them to flourish in life and their chosen vocation.
The admission office welcomes the opportunity to guide you on your journey to learn about our school and the distinctives of Christian classical education! It would be our pleasure to share more with you about the gift of a Geneva education. We are happy to talk with you over the phone, via email, and of course in person.