Geneva Classical Academy exists to assist families in fulfilling their biblical obligation to educate and train their children by providing an extraordinary education founded upon a scriptural worldview, distinctively Christian and classical, thus equipping students to know, love, and practice all that reflects truth, goodness, and beauty and encouraging them to live purposefully and thoughtfully in the service of God and man.
Geneva Classical Academy is accredited by The Association of Classical and Christian Schools and a member of College Board.
Geneva Classical Academy, established in 1996, adheres to a classical and Christian pedagogy. The curriculum is rigorous, college-preparatory, and founded upon the ancient and traditional liberal arts. Geneva's classical curriculum offers to colleges and universities high school graduates uniquely qualified to engage in intellectual debate and exploration. We place a profound weight on each student's understanding of the interconnectedness of all subjects and the imperative to synthesize them. This K4-12 school, with a student body of 160, is located in Lakeland in Polk County, Florida.
Admission to Geneva Classical Academy is selective and holistic. We consider each applicant based upon academic records, teacher recommendations, standardized test scores, pre-admission assessments, and student and family interviews. Geneva Classical Academy admits students of any race, color, and national or ethnic origin.
Graduation candidates of Geneva Classical Academy must have at least a C average (70% or higher). Given the high value we place on academic rigor and the abilities of our students, all courses are taught at an Honors level. Designated Honors classes receive weighted grades of .5 point. Also of note is the study of Latin, which begins in third grade and continues as a required course through tenth grade. Logic, Rhetoric, Senior Thesis, and Capstone classes complete the classical model.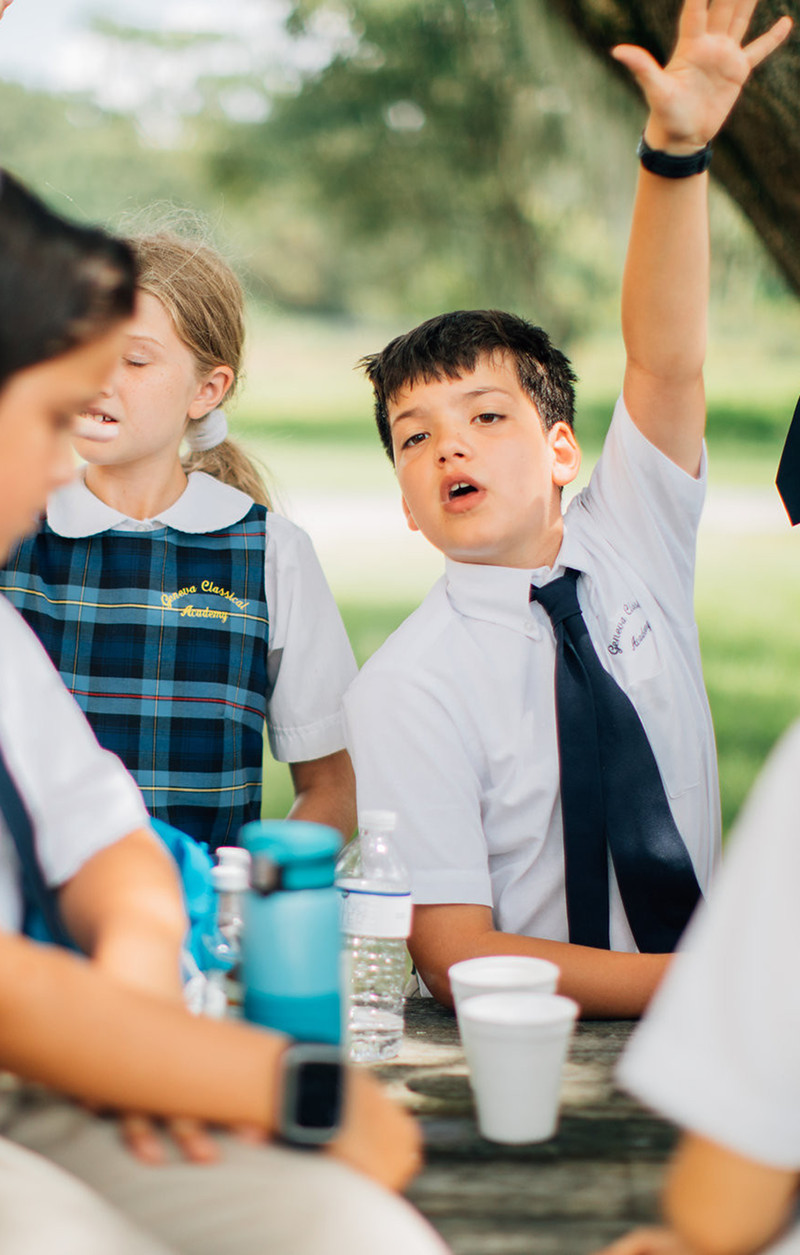 Graduate Profile
GPA range (weighted): 2.57-4.37
GPA range (unweighted): 2.51-4.00
SAT range: Reading 470-670, Math 390-590
ACT range: 19-29
College Acceptance
Appalachian State University
Auburn University
Belhaven University
Boyce College
Clemson University
Covenant College
Eckerd College
Erskine College
Flagler College                                                    Florida Polytechnic University
Florida Southern College
Florida State University
ITT Technical Institute
Jacksonville University
Mississippi State University
Polk State College
Rollins College
Sewanee-The University of the South
Southeastern University
University of Alabama
University of Florida
University of Mississippi
University of North FL
University of South FL
United States Air Force